It was the most challenging Red Hat exam to date.
From Ansible to Puppet
If you read the previous entry from my RHCA blog, you'll know that I started studying for the Ansible exam pretty much straight after finishing working on Red Hat clustering. Unfortunatelly, my clustering exam got cancelled and I had to re-schedule it. While I waited to sit the exam, I started learning Ansible.
Now, I've been using Puppet for several years, and naturally, I got to the point where I found myself comparing the Ansible way of running playbooks with my Puppet manifests. At some stage I realised that (as a result of this) I went through all EX405 objectives, and I could take the exam. I pressed the pause button on Ansible, and spent a week re-writing my homelab Puppet manifests to use templates, variables, relationships and ordering, and working with Foreman/Katello.
My homelab is already Puppet/Foreman based, therefore I didn't need to set anything else up for EX405.
About Red Hat Kiosk Exam
After having really good experience with the EX436 individual exam, I decided to take EX405 as a kiosk exam as well. I drove to the same place as the last time, the UKFast Campus in Manchester. There were no problems with the laptop, its performance or networking.
EX405 Exam Experience
It took me nearly 3 hours to complete all tasks. Although I've passed the exam with the score of 300/300, this one was the most challenging exam that I've taken to date.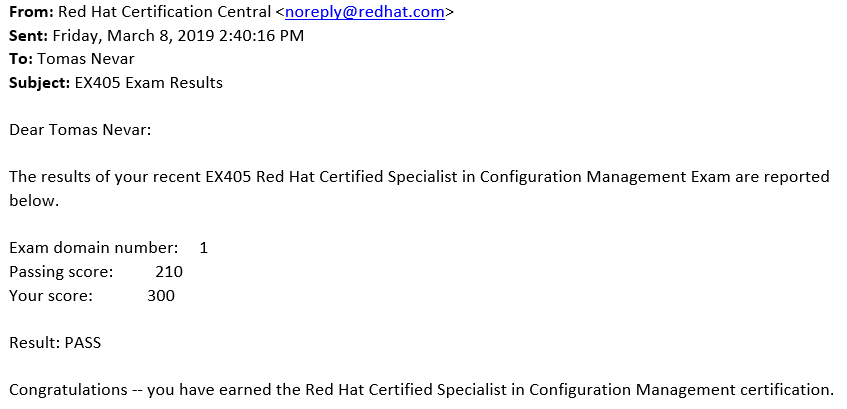 When I think about it, there was nothing particularly hard with regards to the exam questions, but it's a lot of coding. Take your time when reading the instructions, and be precise when naming everything: modules, classes, parameters, manifests etc. Always check for syntax errors before you do anything else.
Remember: your Puppet manifest may still work if you make a typo when naming a resource, but you are likely to lose points because of this.
What's Next?
The last week was really busy for me as I spent nearly 30 hours homelabbing with Puppet and Foreman.
I'm going to take a couple of weeks off from RHCA, and then get back to Ansible.