After my classroom exam was cancelled, I decided to take an individual exam.
Red Hat Individual Exam Experience
This was the first time I took an individual exam, and to be honest, having read plethora of reviews online about people having all sorts of problems, I was, to say the least, a bit worried.
There are two places that offer individual Red Hat exams in the UK, one in London, and one in Manchester. Either way it's a two-hour drive from where I live. Driving in London is a no no, so I booked the exam in Manchester. The place is at the UKFast Campus and it has free on-site parking, amazing.
I didn't get the personal testing station (the one that they show in the individual exam sessions video), but was provided with a 17″ laptop instead. I was monitored remotely by a Red Hat test proctor.
The whole experience was very positive. I had no issues with the laptop, no networking or performance problems. I already started considering taking all of my RHCA exams there.
EX436 Exam Experience
I've passed the exam with the score of 300/300.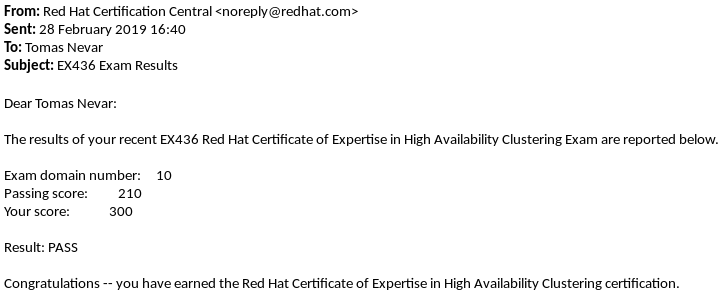 I finished all the tasks in under 90 minutes, and then spent some time testing everything making sure that there are no issues. I'd say that 3 hours is plenty of time even if you need to troubleshoot something (I did have to troubleshoot a few things).
What I liked about this exam the most was the implementation of a complete solution. You build from the ground up until you have a highly available system.
As with other Red Hat exams that I've taken, the key thing for me was to know where to find information on a RHEL system.